As a special offer to our customers, Gods Country for a limited time will offer free fletching of choice for every dozen shafts ordered.  Please specify you color choice in the comments box of your arrows.  We stock all Blazer products!  Please allow a few days for custom fletching after order.  I forgot to add a line for arrow length.  I you want them cut, please add a note with the length in you PayPal comments.
CALL FOR PRICING (828) 615-7770

If you are looking for Speed with unmatched Penetration then look no further. The Victory VAP Hunting shaft was designed by composite engineers & archers to out perform & out penetrate all other shafts in the market. The VAP shaft combines the deadly combination of a micro outer diameter while maximizing kinetic energy, accuracy and penetration making it by far the most powerful, accurate hunting arrow on the market. With Industry leading straightness tolerances, and tight weight tolerances coupled with Victory Spine alignment process, the VAP is unmatched. The VAP has a variety of precision 7075 aluminum and stainless steel components that help increase the EFOC (Extreme Forward of Center) design which offers ultimate long range accuracy and penetration for that animal of a lifetime. Boasting a .166 diameter size arrow shaft!!


If you are looking for maximum downrange speed this is the ideal arrow for you. The Victory RIP XV Extreme Velocity Hunting shaft is designed with one objective - maximum speed and long range performance in a small diameter arrow. By employing our unique composite materials expertise, Victory engineers were able to test, retest and finally settle on an exclusive combination of resins and carbon fibers that make the RIP XV a reality. With Industry leading straightness tolerances of ' and tight weight tolerances coupled with Victorys Spine alignment process, the RIP XV is truly a one of a kind arrow. The RIP XV is available with a variety of precision 7075 aluminum and stainless steel components.


The name speaks for . Combine the speed and penetration of the VAP with the durability of the VForce, you now have an arrow shaft that combines the best of both worlds, the R.I.P. 204. With industry-leading straightness tolerances of , a smaller outside diameter (from your standard hunting shaft), and Victorys Spine Alignment process - the R.I.P. is in a class of its own. Couple sthe R.I.P. with the indestructible Top Hat Stainless Steel 60 grain insert or the slightly lighter 40 grain aluminum insert, you have a hunting shaft that is unparalleled by any other arrow on the market. It's (Forward of Center) design offers ultimate long range accuracy and maximum impact for the world's toughest animals.


Victory's hottest hunting arrow just got hotter. The Victory VForce Hunting shaft is the most accurate standard diameter hunting shaft on the market. With industry leading tolerances, a standard .245 inside diameter and Victory's Spine Alignment Process, the VForce is the arrow to take any archer to the next level. Couple the VForce with Victory's new ACI245-22 Insert and you have an arrow that will make you shoot more accurately. The Victory VForce is the deadliest combination for your next hunt of a lifetime.

VICTORY   TARGET   ARROWS
Because target archers are so specific with weight of arrows and FOC concerns, all target arrows will be ordered based on the customers needs.  Please email me at
[email protected]
or call me at
828-446-3412
to place these orders.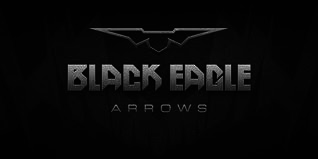 CARNIVORE  

SALE SALE SALE !!!!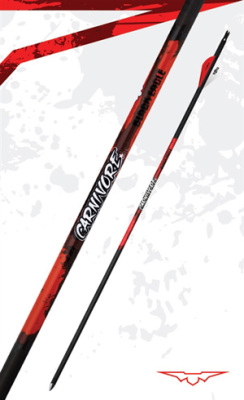 Since the inception of Black Eagle Arrows, the Carnivore has been a mainstay. Though we offer several types of arrows for bows, the Carnivore continues to be prevalent. As our flagship hunting/target carbon arrow, it's proven itself all around the world. As an awardwinning arrow, the Carnivore continues to be popular among hunters as well as those who enjoy indoor and outdoor archery. As some of the best arrows for deer hunting, the Carnivore is known for its delivery speed from long distances. You will  be happy to have these during deer season. Year after year, the Carnivore continues to be the best carbon hunting arrow available. Our superior carbon technology is matched with our group together technology, making the Carnivore a must for every sportsman's quiver. The best hunting arrow also comes in Lost Camo. See why we chose Lost Camo

ZOMBIE SLAYER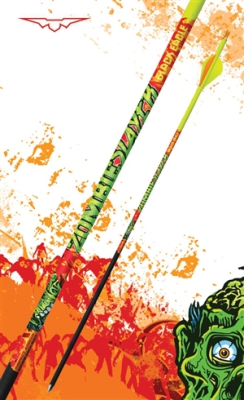 Our Zombie arrows are made for accuracy and penetration and are manufactured with the tightest straightness tolerances to ensure you never miss that critical head shot. The accuracy of these arrows make them some of the best arrows for hunting you'll find, but that's not the only reason they are a must have in your arsenal. The unmatched durability of the Zombie arrows is guaranteed, as we test our shafts by shooting through  pressure treated plywood and other materials. The durability allows you to reuse these arrows over and over again, which contributes to the effectiveness of your bow as an ideal survivor. Black Eagle Arrow Zombie Slayer arrows are available in crested or fletched form. Our Zombie Slayer shafts are durable and designed for optimum performance. Here is Dan McCArthy's review of our Popular Zombie Slayer Arrow.


OUTLAW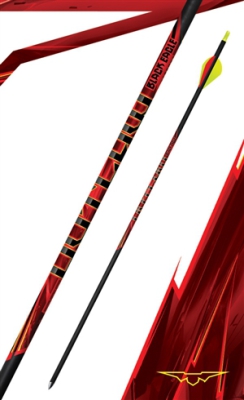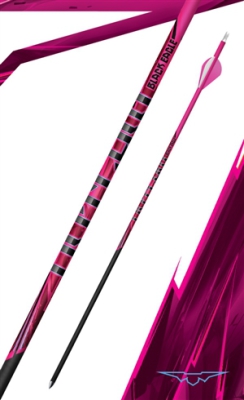 Designed especially for the toughest outdoorsmen, our Outlaw arrows were built using superior carbon technology to handle the ruggedness and abuse encountered while hunting. These 19 series hunting arrows are affordable and are manufactured with the perfect balance of speed and kinetic energy to provide for maximum versatility for the unpredictability of the woods. Our Outlaw series are great arrows for hunting and can withstand abuse out in the field. These fletched arrows make for some of the best hunting arrows on the market. Available in bright colors, you'll be able to easily locate your hunting arrows during an important low-light hunts. Our pink carbon arrows are a great gift for the female hunter in your life.
 Our Outlaws provide the highest level of performance of any arrow you will find. 

.005 STRAIGHTNESS OR BETTER!

VINTAGE

Our Vintage arrow is the first of its kind on the market. Many serious traditional archers, and compound archers, are looking for a high quality wood grain carbon arrow  so we delivered. Each Vintage arrow's cresting is hand painted and quality inspected. The Duracoat wood grain overlay-finish allows for refletching and cresting. Vintage arrows are straightness sorted, spine matched, and weight matched to ensure the quality and toughness that you have come to expect.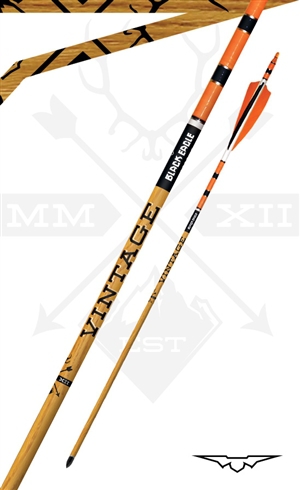 SPARTAN

The Spartan was developed from taking the best characteristics from larger 19/64' and smaller 17/ shafts. We wanted the 'Spartans outside diameter to be small for maximum accuracy and penetration. However, like larger arrows, we wanted the 100% carbon Spartan to utilize an insert for easier arrow removal and to reinforce the front of the shaft for bone-shattering impacts.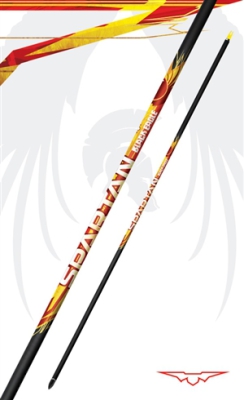 RAMPAGE

Designed for superior long-distance performance, our Rampage arrows are some of the best hunting arrows on the market today. With spine-to-weight ratios creating a balance for optimal speed, kinetic energy and penetration perfect for long-range archery, these arrows are easily one of the best for maximizing your arrows front of Center (F.O.C) .
Rampage arrows feature an inner diameter of only, which is what provides the longer distances, but no durability was sacrificed in the making of these 100% carbon shafts. When looking for the best carbon hunting arrows of 2015, these award-winning arrows are sure to be at the top of the list, as they are the perfect shafts for any big game. Whether your  hunting for animals in Africa, Australia or anywhere in the world the Rampage arrows are a must for your quiver this season. The Rampage arrows are guaranteed to give you the accuracy that you desire.

RENEGADE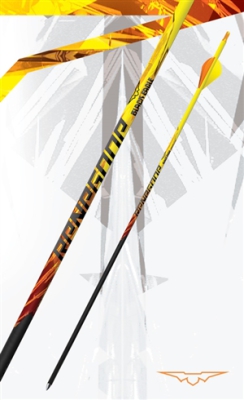 The Renegade arrows are 100% carbon hunting arrows that are designed for hunters who want a supremely accurate, small-diameter value price arrow that's also incredibly durable. Its the best .204 ID arrow out there today, as its the only one with .005" or better straightness in its price class. Engineered to eliminate crosswind drift, they are the perfect long-range hunting arrows to ensure penetration.
The flight characteristics of these durable shafts ensure maximum power down range, so if yor're in need of deer hunting arrows, these are perfect for you. These hard-hitting carbon arrows come standard with our stainless steel, bone-crushing half-out, further making them ideal arrows for hunting.The durability and price of the Renegade arrow is what sets it apart from similar ID arrows coupled with our market leading spine sorting, straightness testing and weigh sorting in every dozen makes these arrows a sure winner.

.005 OR BETTER STRAIGHTNESS!

DEEP IMPACT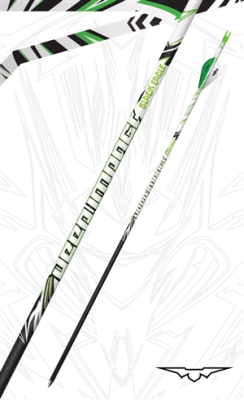 Capable of maximizing speed, kinetic energy and penetration as well as providing the flattest trajectory possible, our Deep Impact arrows are sure to make your next hunting trip a success. These Micro-diameter arrows are built for accuracy, and the awesome spine-to-weight ratios make these arrows ideal for both target archers and hunters.

The Deep Impact arrows are incredibly hard-hitting, and are a must to bring along the next time you are hunting for game that is tough to penetrate. Be sure to shoot some of the best micro-diameter arrows on the market today!

X-IMPACT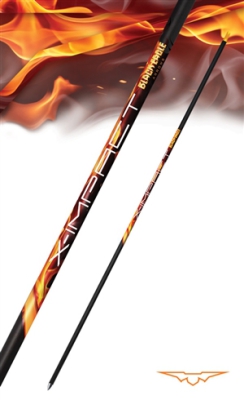 If your looking for bad to the bone, look no further than the X-Impact! We constructed the X-Impact from the highest quality carbon fiber to ensure it's the best nano diameter shaft on the market. This shaft is made of 100% High-Mod Carbon, which means it's our lightest shaft available to date; this allows for more point weight up front, equating to better flight characteristics and long range pin-point accuracy.
From the fields of Africa to podium finishes all over the world the X-Impact has become a favorite with hunters and target archers alike.

CHALLENGER

3D archery can be an exciting way to spend the day with friends, especially with the right equipment. Our carbon target arrows are popular amongst those who enjoy the sport. Our Challenger shafts are extremely durable and are the same weights as our popular Magnum shafts.
These archery target arrows are great for practice use as well as in tournaments.
All components for our Challenger arrows are sold separately, allowing you to customize to fit your needs.

PS23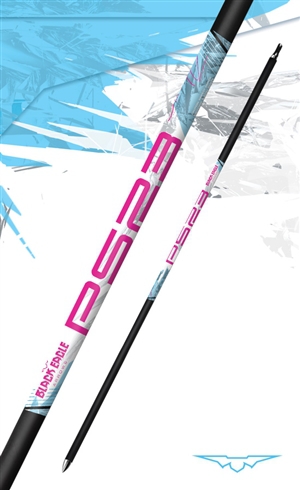 The PS23 Target Arrows Possess the tightest tolerances in carbon arrow shafts available, the PS23 arrows are the perfect arrows for the highest levels of competition. They were designed by multi-time IBO & ASA champion Dan McCarthy, who poured his heart, soul and expertise into making the best target arrows possible.
When browsing the PS23 arrows, you will notice that all components are sold separately, allowing you to fully customize the shafts with your choice of bushings, nocks, points and vanes. We want to make sure you get shafts that meet your exact specifications, so you can rest easy knowing you got the perfect shafts for you.
PS26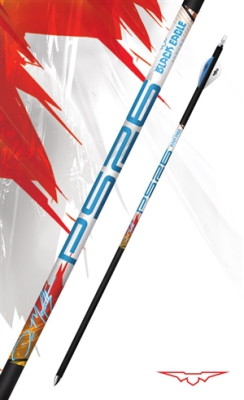 The Dan McCarthy PS26 Premium Signature series shaft was developed personally by Dan, a multi-time IBO & ASA champion. Constructed of 100% carbon and manufactured to ultra-tight tolerances, the PS26 will deliver during the most demanding real world tournament conditions. This shaft's large 26/64 diameter, and this shaft's grains per inch characteristics, make the PS26 and ideal arrow for indoor and outdoor 3D competitions.
When browsing the PS26 arrows, you will notice that all components are sold separately. This allows you to fully customize the PS26 with your choice of bushing, nock, point and vane style that best suits your needs and preferences.
MAGNUM

27/64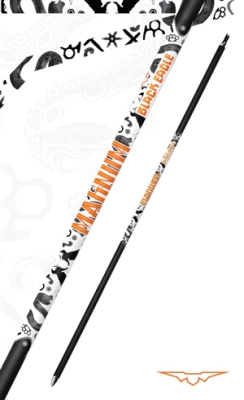 For those who take archery seriously and are looking for the best competition arrows, look no further. We've developed the tightest tolerance max-diameter shaft with the Magnum arrow, giving you superior performance no matter where you are shooting. Combat wind drift with the thin design to hit your target every time.
Our archery carbon arrows include 32-inch shafts that feature great spine-to-weight ratios for both indoor and 3D competitions. Hit your target shot after shot with these arrows that were made to leave the competition in the dust. For the competitor looking for the best bow arrows to bring home the prize, the Magnum arrows are what you're looking for!

All of our Magnum components are sold separately, allowing you to fully customize your arrows.